On July 4th, 1942, RAF Bomber Command sent 12 Boston Mk III light bombers (American built Douglas A-20s bearing British roundels) to bomb in a daylight raid four German Luftwaffe airfields on Holland: De Koog, Bergen/Alkamaar, Haanstede and Valkenberg air bases. Half of these bombers were assigned to the newly arrived in Europe US 15th Bomb Squadron and manned by American crews. 2 bombers were lost in this low-level attack, shot down by anti-aircraft fire; 6 airmen were missing in action: American manned AL677 piloted by 2nd Lt FA Loehrl was hit by Flak and crashed in flames over De Kooy, and Lt Lynn's Boston AL741 was hit after dropped their bombs over Bergen.

This would be the first operation of what would become the mighty Eighth Air Force of USAAF, and the first American bombing raid in the European Theater of Operations (ETO). When the war ended, American bombers had flown more than 1,440,000 sorties, with the Eighth 'heavies' dropping 557,643 tons of bombs over Germany itself.
[In the images we see a bomber crew of 15th Bomb Squadron, 301st Bomb Group with an RAF Douglas Boston of No 226 Squadron, after being awarded medals, Independence Day. Left to Right: Sgt Bennie Cunningham, T/Sgt Robert Golay, Major Charles C Kegelman and Lt Randall Dorton.]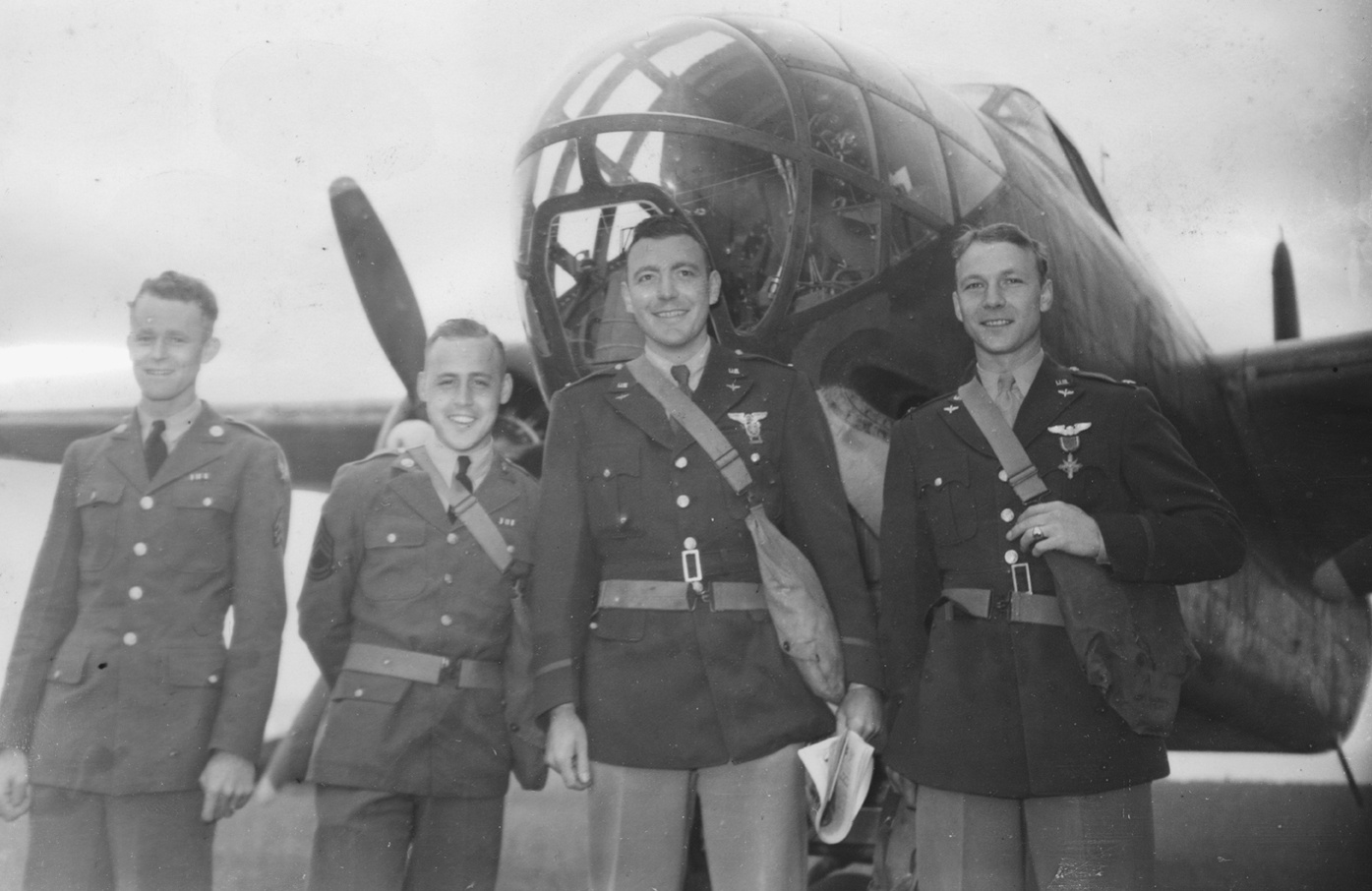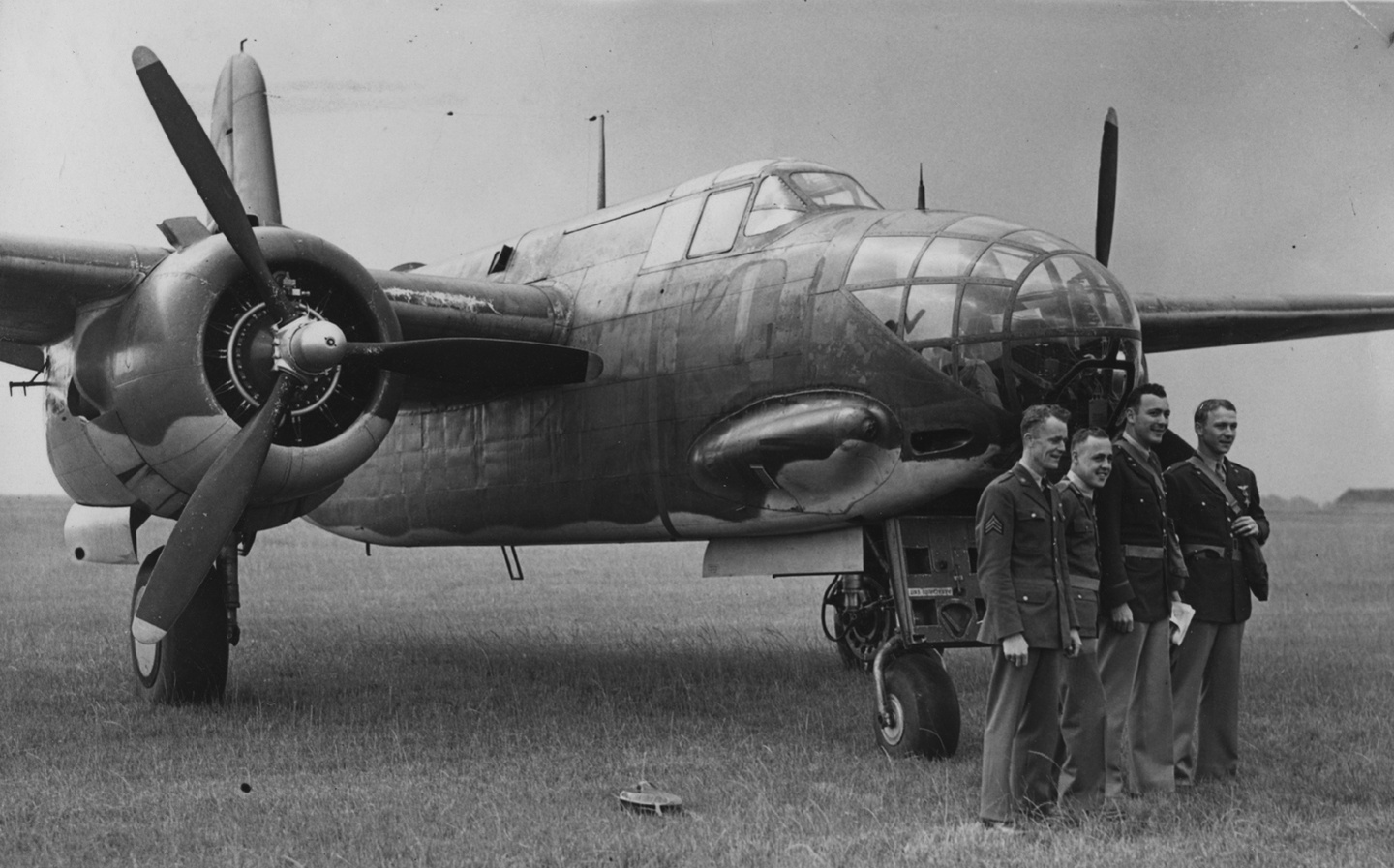 [Original caption: "Orders are read presenting Major Charles C Kegelman with the Distinguished Service Cross and Lt. Randal M Dorton, T/Sgt. Robert L Golay and Sgt. Bennie B Cunningham with the Distinguished Flying Cross for their low altitude bombing raid on 4th July 1942."]
This baptisme of fire had resulted in the loss of one third of the American forces sent but had great morale for the Allied cause: the United States are now active in the air war over Western Europe against the Nazi Germany. Actually, the first action on any USAAF crew to bomb occupied Europe was made by Captain Charles C Kegelman's crew, flying on a mission with 12 RAF Bostons of No 226 Squadron were dispatched against Hazebrouck marshalling yard, France, on 29 June 1942.
_______________
Sources and Bibliography:
American Air Museum in Britain. First 8th Air Force Operation (04 July 1942). <http://www.americanairmuseum.com/mission/1241>
Churchill, Winston. Their Finest Hour. Houghton Mifflin. 1949.

Freeman, Roger. The Mighty Eighth. A history of the units, men and machines of the US 8th Air Force. Cassell & Co. 2000.

Middlebrook, Martin. The Bomber Command War Diaries: An Operational Reference Book. Pen & Sword Aviation. 2014.
Overy, Richard. The Bombing War: Europe, 1939-1945. Allen Lane. 2013.
_______________