The Armstrong Whitworth Whitley was one of the three 'strategic' bombers types with which Britain went to war in September 1939. The Whitley was conceived as a night 'heavy' bomber and was RAF's first monoplane bomber and the first one to penetrate on Germany airspace.
With a crew of five men, and powered by two Rolls-Royce Merlin X engines, the Whitley was capable of 230 mph (370 km/h) at 16,400 ft (5,000 m) and was bombed with up to 7,000 lb (3,175 kg) of bombs in the fuselage and 14 individual cells in the wings.
[An in-flight view of Whitley Mk.V T4131, 'EY-W' from No 78 RAF Squadron during 1941. Note row of bombs painted on the fuselage nose to indicate numbers of missions flown over the Third Reich.]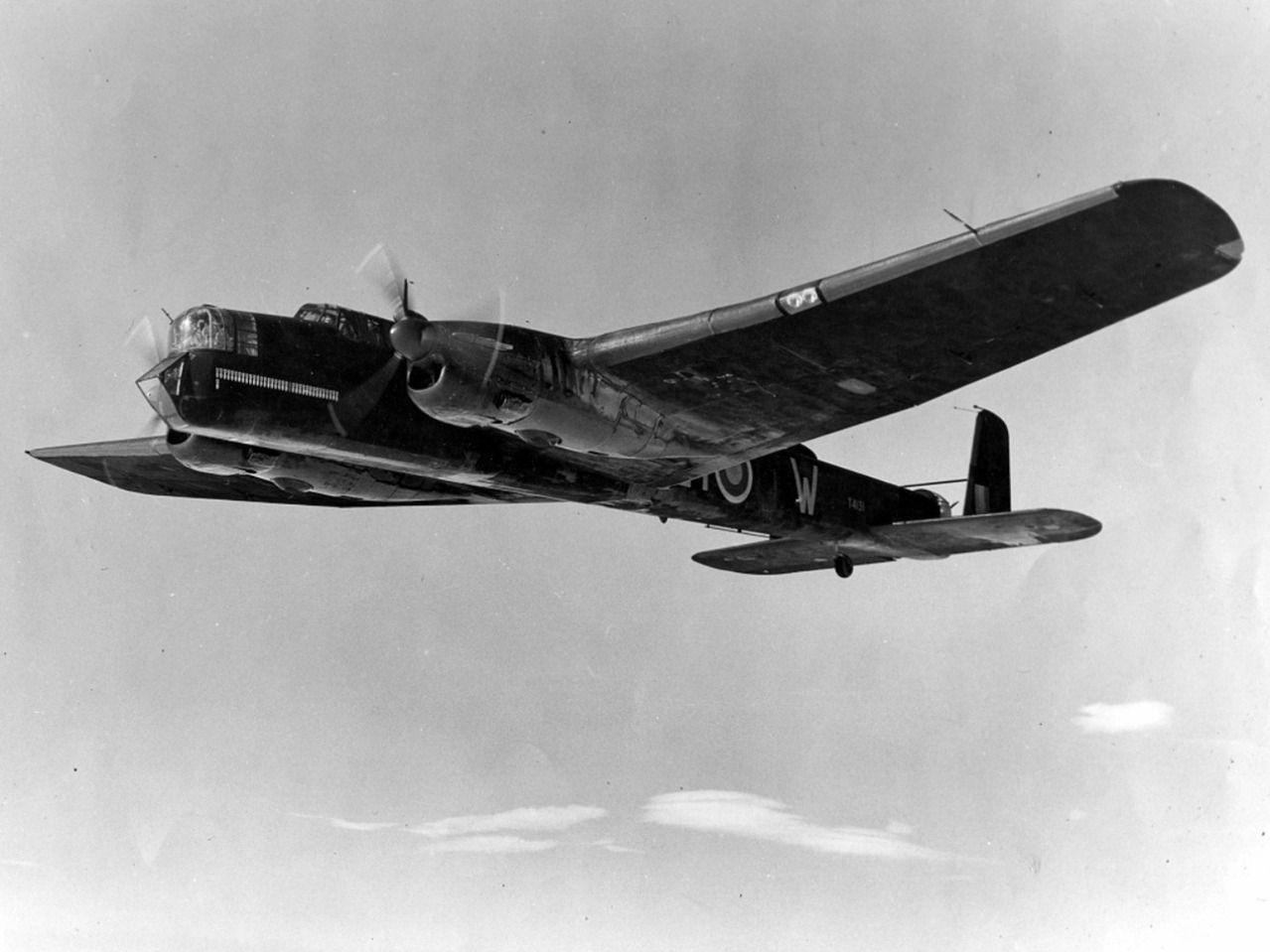 Following the outbreak of war in September 1939, the Whitley participated in the first RAF bombing raid upon Reich territory and remained an integral part of the early British bomber offensive until the introduction of four-engined RAF bombers namely the Short Stirling or the Lancaster. Already an outclassed design when the war started, in 1942 it was retired from first-line bombing sorties. This two-engine bomber equipped Bomber Command's 10, 51, 58, 78 and 102 Squadrons, all from No 4 Group.

It participated, along with Hampdens and Wellingtons in the first British-attack over Berlin on the night of 25 August 1940. And during the next 6 months, the Whitleys would be on first line delivering bombs by night to the Reich capital.

[Artist Paul Nash made this watercolour and chalk drawing of Berlin's RAF first attack from a set of photographs that Air Ministry sent to him. It shows an aerial view of four Whitley bombers in flight over a target area of Berlin. It was made in January 1941.]
With 1,814 Whitleys built, they flew a total of 8,996 operations with Bomber Command, with 9,845 tons of bombs dropped and 269 of them were lost in action.
[An Armstrong Whitworth Whitley bomber being readied for another sortie over Germany. It belongs to No 58 Squadron and is seen at RAF Linton on Ouse dispersal.]
[The Nash and Thompson Type FN4 rear turret of an Armstrong Whitworth Whitley bomber of No 102 Squadron RAF at Driffield, Yorkshire, 8 March 1940. It was armed with four ,303 in Browning machine-guns to protect the plane against night-fighters.]
[Armstrong Whitworth Whitley Mark V of No 77 Squadron RAF rests in the grass at Driffield, Yorkshire, April 1940. Notice how broad was the wing. The Whitley featured a large rectangular-shaped wing; its appearance led to the aircraft receiving the nickname "the flying barn door".]
[Luftwaffe crews and German civilians inspecting the wreckage of Whitley bomber T4170 'GE-T' from No 58 RAF Squadron. This aircraft, flown by F/O Jack Champness crew, was shot down near Westerwede, Germany in their way to bomb Berlin on the night of 14/15 November 1940. The Whitley was hit by flak from the 3./Flak Regiment 26; all five crewmembers were killed and buried at Worpswede until 1947. That night, Bomber Command lost 10 aircraft -the worst night since the war began.]

[An American Aircraft recognition poster showing the RAF Whitley bomber.]
[The pilot of a Whitley bomber gives the 'thumbs up', 29 August 1940.]

[In this photograph the tug driver is seen through the bomb aimer's window of a Whitley bomber awaiting instructions from the cockpit.]
[A crew of No 78 Squadron, Royal Air Force, watch as engine adjustments are made to an Armstrong Whitworth Whitley bomber Z6743 before they take off for a raid from Middleton St George, Durham.]
_______________

Sources and Bibliography:
Bowman. Martin W. Voices in Flight: the heavy bomber offensive of WW2. Pen & Sword Aviation, 2014.
Bowman, Martin W. Voices in flight: RAF Night Operations. Pen & Sword Aviation. 2015.
Wixey, Ken. Warpaint Books - Armstrong Whitworth Whitley. 021.