One of the three bombers types beside Wellingtons and Whitleys which participated on the first British attack over Berlin in August 1940 was the Handley-Page Hampden, model HP 52.
[A two-ship formation of Handley P Hampdens from No 44 Squadron RAF over England.]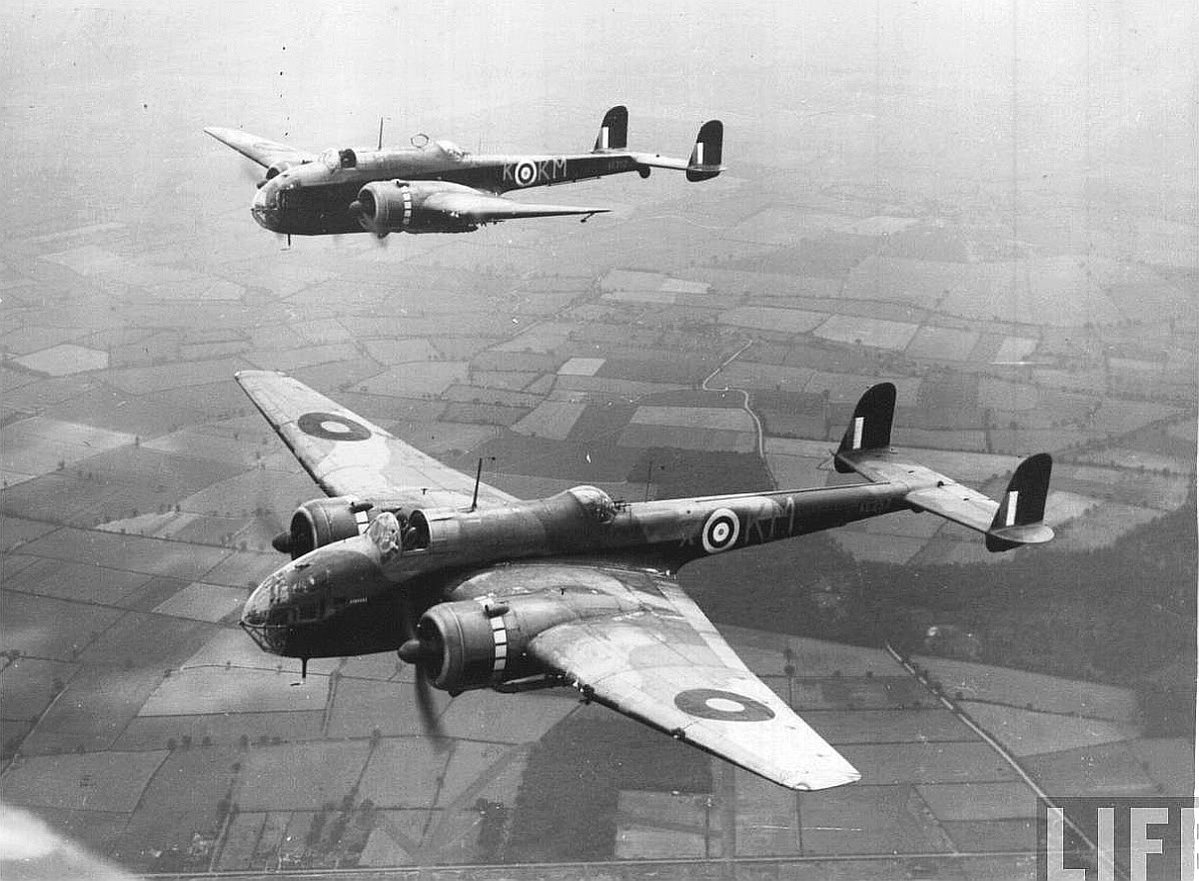 That first night over Berlin, 46 Hampdens bombers from Nos 49, 50, 61 and 144 Squadrons were sent to attack the 'Big City'. Of these six were lost, five through fuel shortage and one missing believed also to be from the same cause. Two of these losses were from 50 Squadron. The last raid a Hampden was dispatched to bomb the Nazi capital was on 21 September 1941. Over the period of thirteen months 20 Hampden raids were made averaging twenty six aircraft per raid. The largest concentration involved fifty aircraft and the smallest ten. During the period 34 aircraft were lost of which 23 (58%) were due either certainly or probably to fuel shortage. By contrast only seven were attributed to enemy action. 50 Squadron lost nine aircraft, of which seven were out of fuel, one shot down by enemy action and one through a forced landing due to engine problems. There were six fatal casualties and two POW's. On a trip to Berlin a Hampden's bomb load would equate to four 500-lb bombs plus some incendiaries. Its endurance with this load was just over ten hours.
[One of the six Hampden medium bombers lost the night of 25/26 August 1940 during the first bombing of Berlin by the British RAF was P2070 VN-X from No 50 Squadron, seen here after forced landing.]
[They took off from RAF Lindholme at 21.58 hrs and after bombing Berlin it is believed that had to force landing due to fuel starvation near Lautersheim, Germany.]
[All four crew-members, led by P/O Rober D Wawn (Australian) were captured and sent to various POWs camps, surviving the war.]
At the outbrak of war, Bomber Command was equipped with 6 operational squadrons of Hampdens under No 5 Group. The Hampden made its combat debut on 3 September 1939 searching German ships off the coast of Heligoland. It was a twin-engined medium bomber, with a crew of four and a max speed of 247 mph (397 km/h) at 13,800 ft (4,210 m); the bombload was of 4,000 lb (1,814 kg) bombs. The newest of the three RAF bombers, the Hampden, was often referred to by aircrews as the 'Flying Suitcase' because of its cramped crew conditions.
The RAF took a total of 1,432 Hampdens, the last of which was delivered in March 1942. The bomber ceased operational service in October 1943, but was retired from frontline raids over Germany a yerar before due to the increasing power of Third Reich defences. Almost half of the Hampdens built, 714, were lost on RAF Bomber Command operations, with 1,077 crew killed and 739 reported as missing. German Flak accounted for 108, 263 Hampdens crashed because of "a variety of causes" and 214 others were classed as "missing".
[A Handley P Hampden Mk. I of No 455 Squadron RAF in flight.]
​[An RAF pilot sits in the cramped cockpit of his Hampden bomber ready to take off.]
[The instrument panel and flying controls of an RAF Handley Page Hampden, showing the almost impossible task of getting into the nose compartment. The bomber's fuselage was only three feet wide, similar to a single engined fighter at the time, so the pilot was more or less stuck on his seat for the entire flight, sometimes up to 9 hours. Note the rear view mirror top of the front plexiglas panel.]
[The ventral rear gunner's position in a Handley Hampden of No 106 Sq RAF at Coningsby, Lincolnshire, viewed from the starboard side. Operating the twin .303 Browning machine guns is Flight Lieutenant Chisholm, the Squadron Gunnery Officer.]
[British HP.52 twin-engined bombers near completion in the assembly line at Handley Page's plant at Radlett, Hertfordshire during the first year of the Second World War. Handley Page would go on to manufacture nearly 500 of them and English Electric a total of 770 Hampdens, built under subcontract between 1939 and 1942].

In this British newsreel we see Viscountess Hampden christening at Radlett Aerodrome the latest type in the RAF Bomber Command inventory in 1938: the Hampden.
[Video credit: British Pathé (FILM ID:1658.28)]
_______________
Source:
Aircrewremembered. 25/26.08.1940 No. 50 Squadron Hampden I P2070 VN-X P/O. Robert D. Wawn. <http://aircrewremembered.com/wawn-robert.html>
Hall, Alan W. (2000). Handley Page Hampden and Hereford. Warpaint Series No 57. Warpaint Books.

Hill, Colin. THE LAST FLIGHT OF AD730 Hampden Bomber of No. 50 Squadron RAF. Background to the Hampden and its Crew <http://www.ww2irishaviation.com/gravescj /chapter_2.html>

Middlebrook, Martin. (2014). The Bomber Command War Diaries: An Operational Reference Book. Pen & Sword Aviation.
Ward, Chris. (2007). 5 Group Bomber Command: An Operational Record. Pen & Sword Books Ltd.