The first attacks on Berlin during 1940 by British forces led to a new phase in the capital of the Reich. Bombing raids were quickly increasing, turning Berliner's nights into a nightmare. Only the RAF´s limited capacity and resources at time -and the powerless capacity of their medium bombers- gave the city time to improvise protection and a defence staff to organize countermeasures on the ground.

[Joseph Goebbels, Propaganda Minister and Gauleiter of Berlin, inspects damage from early British bombing of the city, 1940.]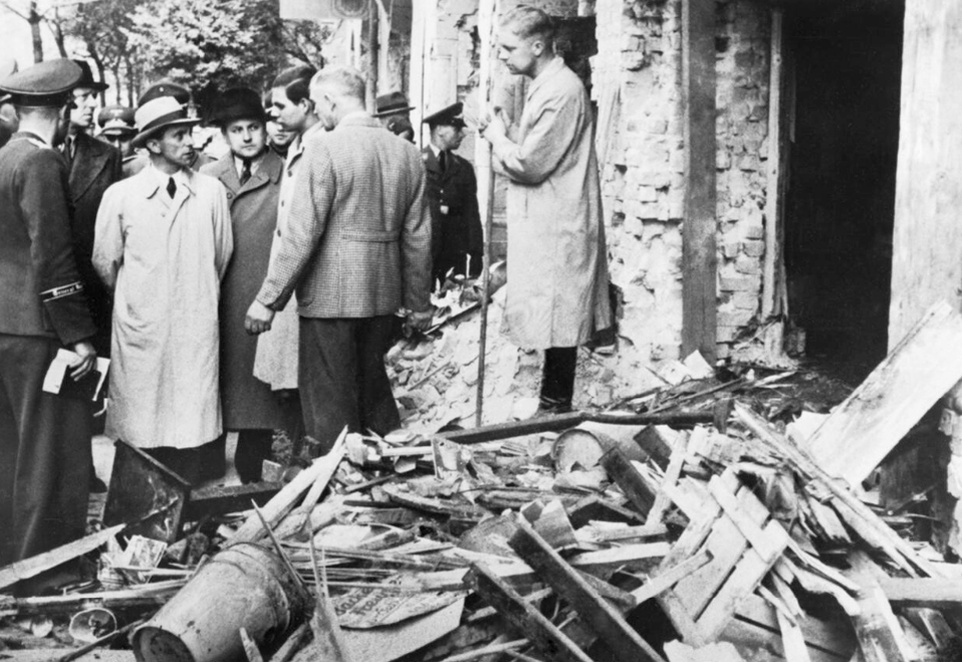 Although the material and the loss of human life in these attacks were small compared to what was to come later, it became clear that the city was completely inadequately protected. Much too late began with improvised protective measures. Moreover, air defence sought new ways to mitigate the impact of the attacks.

[Bombenangriff with a destroyed apartment blockhouse in Charlottenburg (after an RAF attack in December 1940).]
Nevertheless, at the end of 1940 the record was terrible: 222 dead, 428 injured, and over 9,000 homeless; for more than 120 hours had been given air alarm.

[This picture of a Berliner injured family appeared in American newspapers on September 9, 1940, following a propaganda press campaign led by Dr Goebbels showing the destruction and death in Berlin caused by RAF attacks, the captions described it as 'British air pirates in terror bombing'. Two days before the Luftwaffe had started its retaliation bombing campaign against London and other British main cities, known by Londoners as 'the Blitz'.]
[Berlin, two pictures taken on 11-13 October 1940, following an air-raid three nights earlier, shows civilians working on the debris in front of a Töpferei -a potter's workshop. At this time, local parties were used to clean and repair the damaged streets and houses.]

_______________

Source:
Moorhouse, Roger. Berlin at war. Life and death in Hitler's capital, 1939-45. Vintage Books, London. 2011.
Overy, Richard. The Bombing War: Europe, 1939-1945. Allen Lane. 2013.
Smith Richar & Creek Eddie. Kampflieger. Bombers of the Luftwaffe Volume Two July 1940 - December 1941. Classic Publications. 2004.

Wildt, Michael. Berlin 1933-1945: Stadt und Gesellschaft im Nationalsozialismus. 2013.
Young, Neil. How Bomber Command Helped Win The Battle Of Britain. Imperial War Museums, 1991.